At Baverli Hills Bed and Breakfast you live in a cozy hut with wonderful, comfortable beds. You'll enjoy staying here summer as winter.
Each hut is equipped with a fireplace and, of course, we serve you with some surprise luxury. At the site there is a hut with a wooden fired sauna.
Bäverly Hills B&B is located between the beautiful Kinnekulle with its unique nature, and Kållands archipelago with Läckö castle and the fishing village Spiken.
Our closest neighbor is the Filsbäck pay and play golf course, and half a mile further you find Lidköpings golf club and its 18 hole park course.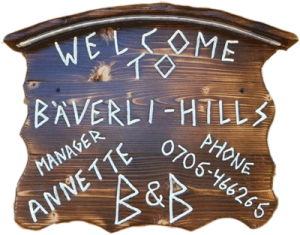 A few steps from Bäverli Hills B&B is the huge Lake Vänern. You reach the water through nice paths through the forest.
The picturesque town Lidköping is located about two miles from us. A lot of Cafés and small shops and boutiques.
And… Who knows. Maybe you meet the beaver family who lives in our little creek.
I would like to bid you a warm welcome to Bäverli Hills B&B
Annette Andersson