At Bäverli Hills you can enjoy a cosy stay in a cabin with wonderfully comfy beds. A perfect destination for summer or winter.
Each cabin is equipped with a wood-burning stove and a refrigerator. There is a toilet and shower right next to the cabins. These are shared facilities that serve all five cabins. There is also a wood-fired sauna and a grill hut that you can hire.
Bäverli Hills is located between Kinnekulle, with its fantastic nature and exciting history, and the Kålland archipelago, with Läckö Castle and the fishing village of Spiken.
Our nearest neighbour is Filsbäcks Golf, with its great pay-and-play course. 500 metres away is Lidköping Golf Club with an 18-hole course set in a park environment.
Just a stone's throw from Bäverli Hills you will find Lake Vänern, and you can enjoy a pleasant stroll along picturesque walking trails, which take you down to the shore, where you can bathe.
Travel a few kilometres by bike or car and you're in picturesque Lidköping, with its many cafés and shops.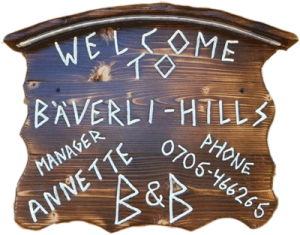 Bäverli Hills is a quiet, relaxing place for people travelling without children. It is located in the heart of a landscape that features a rippling stream just around the corner, and if you're lucky you will get to see the beaver family in the stream or the elk that cross the field.
Bäverli Hills salon
Annette who runs the place also has a hair salon and is a nail artist. Get in touch by phone or e-mail in advance to make a booking.
She offers:
– Men's and women's hair cuts
– Colouring and perms
– Nail extensions and manicures
– Ear and nose piercings
– Colouring of eyebrows, eye lashes, etc.
A warm welcome awaits! (Please book directly by contacting us)
Annette Andersson